What is it?
The flowers and berries of Elder, the familiar scraggly tree that grows in many a backyard with the owners being none the wiser that they have one of the great medicine chests of Nature right outside their door!
| | | |
| --- | --- | --- |
| FLOWERS | BERRIES | DRIED FLOWERS |

How has it been used?
Elder tea is an ancient remedy for colds, flus and fevers and for promoting the flow of urine. Elder helps heal grazed skin soothes sore or inflamed eyes. Elder berries contain ingredients that boost immunity and help the body fight the flu virus.
Rudolph Weiss M.D. writes 'Elder juice is an old folk remedy; this refreshing and revitalising juice is a very popular beverage, often taken in 'spring cures' which do indeed improve the body's resistant to disease'. Weiss goes on to give this simple recipe as an example:
Elder Spring Cure
Take 7 large umbels (sprays) of Elder flowers and place in 7 litres of water. Add three thick slices of lemon without the seeds. Allow to macerate for 24 hours and then strain through cheese-cloth or muslin. Now add 1 kg of sugar and more lemon juice to taste. Stir thoroughly and allow to macerate for another 24 hours. The fresh elder juice is now ready to drink. For even better effects, the juice can be filled into bottles and stored in a cellar to allow carbonic acid to develop. This type of elder juice takes about 3-4 weeks for adequate carbonation. It is best chilled before use.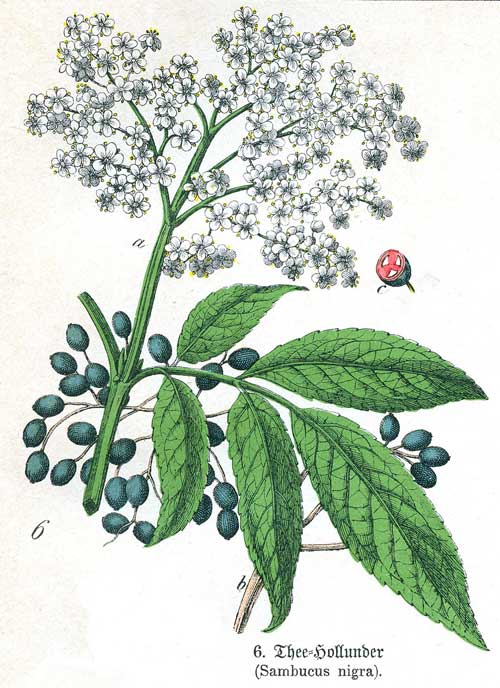 TOP | HERBS A-Z LIST

Science on Elderberry
I've followed the scientific literature on Elderberry with keen interest, in particular its ability to assist with fighting the influenza virus and have put together a page with some more detailed descriptions of some of that research that you can find, it's here
There is a real possibility that at some time in the future there will be another mutation of the flu virus from animals to humans that will prove to be really deadly - don't forget about Elder berry if this dreadful possibility turns into a reality

Safety of Elder

Elder leaves and bark will be purgative and cathartic if taken in any quantity and likewise unripe Elder berries will cause nausea and vomiting. Aside from that the medicinal use of the flowers and the ripe berries in teas or tinctures is actually extremely safe and may be taken frequently or in high doses by the young and old, whilst pregnant or breastfeeding.
Theoretically, elderberry might interfere with immunosuppressant therapy because of its immunostimulating activity. Elderberry stimulates production of cytokines including interleukin and tumor necrosis factor. Immunosuppressant drugs include azathioprine (Imuran), basiliximab (Simulect), cyclosporine (Neoral, Sandimmune), daclizumab (Zenapax), muromonab-CD3 (OKT3, Orthoclone OKT3), mycophenolate (CellCept), tacrolimus (FK506, Prograf), sirolimus (Rapamune), prednisone (Deltasone, Orasone), and other corticosteroids (glucocorticoids).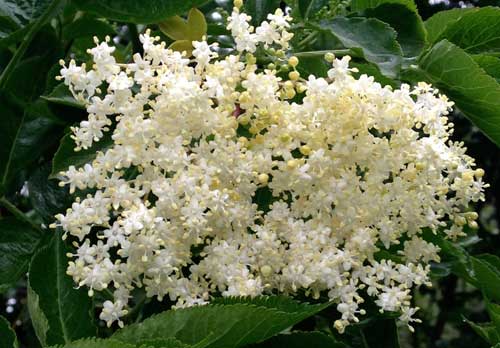 Personal experiences
I use a great deal of both Elder berry and flower in my work. The tincture of both is very good but I've also felt for myself how you can literally feel your sinuses open and the blood run better when you drink some Elder flower in the form of an infusion and I've found it to be exceptionally helpful for people with chronic blocked noses and stuffy heads.
Elder flower smells and tastes good. If the condition needs heat, such as a cold, or blocked sinuses, or the person is feeling chilled and they are trying to raise their temperature, then sip the tea as hot as possible. In some cases, it will be of the greatest advantage to use the Elder to help provoke a therapeutic fever and how to use Elder in sweating therapy is discussed here
If, on the other hand, a person's condition is already too hot, such as inflamed eyes, skin rash, the fever has broken and the person now feels too hot, then you may prefer to let the Elder tea completely cool and either use it as a wash or simply drink it cold to hasten the healing process.
As mentioned in the science section above Elder berry has some profound effects on the immune system when it is under attack and I have personally found it to be of tremendous benefit in patients with severe viral infections that they can't get out from underneath.
If you who are reading this are studying herbal medicine or just want to get to know this great herbal ally in more depth then I warmly recommend you take a little Elder tea or tincture with an open and receptive mind and see for yourself how it makes you feel. Doing this will give you a sense of the herb's action and I think you will be pleasantly surprised at just how good it can make you feel - even when you aren't sick! Try and see and do 'tune-in' to your heart - this is feel-good medicine!
Further to this, if you would like to learn more about the ancient art of pulse testing, a simple but powerful way to ask the intuitive intelligence of the body for its responses to a herb by feeling the pulse whilst giving a tiny dose by mouth, read here

Elder flower tea combines perfectly with Limeflowers, Boneset and Yarrow for head colds and sinus problems. The tincture of the berries combines perfectly with Echinacea for weak immunity and viral infections. In the case of the tincture of Elder berry we make ourselves no more than about 4 or 5 mls a day in divided doses is well tolerated and, for most people, a dose of 3 or 4 mls in a day is ample to get the therapeutic effect.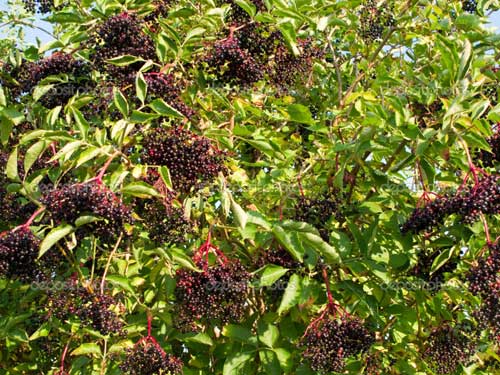 TOP | HERBS A-Z LIST

Constitutional note
Much of the information here about the traditional uses of Elder is consistent with the model of thinking whereby one may treat problem A with plant B. There is value in this approach, especially in how it helps us pass on useful knowledge to one another, but it falls short in one vital area; and that is that people are not all cut from the same cloth! Something that works brilliantly for one person may do less for another -- why is this?
The reason is that people vary in their constitutions as to whether they are either hotter or cooler and, at the same time, either dryer or damper. This interesting and useful subject is introduced further here
There is an old wisdom in treating the person first and the condition second and in this light Elder can particularly offer its benefits when an activation is needed in the 'cycle of healing'. more about this here

Excerpt from Felter & Lloyd's Kings Dispensatory from 1898
In hot infusion, elder flowers are diaphoretic and gently stimulant; in cold infusion, they are diuretic, alterative, and cooling, and may be used in all diseases requiring such action.

The expressed juice of the berries, evaporated to the consistence of a syrup, is a valuable aperient and alterative.

The flowers and expressed juice of the berries have been beneficially employed in scrofula, cutaneous diseases, syphilis, rheumatism, etc.

The chief indication for Elder is a fullness or oedematous condition of the parts, giving them a watery and flabby appearance.
Please understand that I cannot advise you, including on products or dosage, without seeing you in person in my clinic but for ideas on how you might find a good herbalist in your area read here

This living 'book' is my labour of love so, wherever you are, I wish you peace & good health!

TOP | HERBS A-Z LIST