Our Pages
ABOUT
- Herbal Medicine
- The Clinic
- Richard Whelan

HERBS
- Alphabetically

CONDITIONS TREATED
- By Group
- Alphabetical

CLINIC INFORMATION
- Clinic Hours
- Clinic Location
CONSTITUTIONAL MEDICINE
- Ancient wisdom in the modern world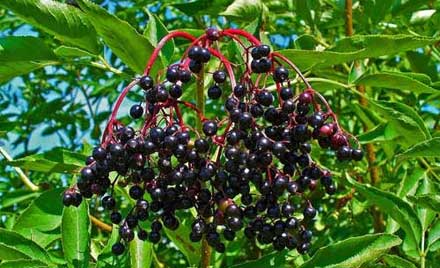 Elder Berry Research
~ Randomized study of the efficacy and safety of oral elderberry extract in the treatment of influenza A and B virus infections.
Zakay-Rones Z, Thom E, Wollan T, Wadstein J.
~ Source
Department of Virology, Hebrew University-Hadassah Medical School, Jerusalem, Israel.
~ Abstract
Elderberry has been used in folk medicine for centuries to treat influenza, colds and sinusitis, and has been reported to have antiviral activity against influenza and herpes simplex. We investigated the efficacy and safety of oral elderberry syrup for treating influenza A and B infections. Sixty patients (aged 18-54 years) suffering from influenza-like symptoms for 48 h or less were enrolled in this randomized, double-blind, placebo-controlled study during the influenza season of 1999-2000 in Norway. Patients received 15 ml of elderberry or placebo syrup four times a day for 5 days, and recorded their symptoms using a visual analogue scale. Symptoms were relieved on average 4 days earlier and use of rescue medication was significantly less in those receiving elderberry extract compared with placebo. Elderberry extract seems to offer an efficient, safe and cost-effective treatment for influenza. These findings need to be confirmed in a larger study.
Elderberry Fights Flu Symptoms
~ Jelly, Jam, or Wine Won't Help -- Only Extract Works

~ WebMD Health News Dec. 22, 2003
Sambucol, a black elderberry extract, appears to short-circuit flu symptoms, a new study shows.
This is more evidence that this herbal treatment for flu -- if taken when flu-like symptoms first appear -- could help people get through this year's flu invasion a bit easier.

~ Background on Black Elder
In folk medicine, flowers from the black elder bush have been used to ease flu symptoms, colds, and sinus problems. In recent years, researchers have begun formal studies of Sambucol -- a formulation of elderberry extract -- to better understand this herbal remedy.
A small study published five years ago showed that 93% of flu patients given Sambucol were completely symptom-free within two days; those taking a placebo recovered in about six days. However, the study took place during an outbreak of influenza B -- so it was unclear whether Sambucol worked with type A virus.
This current study shows that, indeed, it works for type A flu, reports lead researcher Erling Thom, with the University of Oslo in Norway.
Thom's findings were presented at the 15th Annual Conference on Antiviral Research in 2002. The study has been accepted for publication in the Journal of International Medical Research.
The study involved 60 patients who had been suffering with flu symptoms for 48 hours or less; 90% were infected with the A strain of the virus, 10% were infected with type B. Half the group took 15 milliliters of Sambucol or and the other group took a placebo four times a day for five days.
Patients in the Sambucol group had "pronounced improvements" in flu symptoms after three days: Nearly 90% of patients had complete cure within two to three days. Also, the Sambucol group had no drowsiness, the downside of many flu treatments.
The placebo group didn't recover until at least day six; they also took more painkillers and nasal sprays.
It's likely that antioxidants called flavonoids -- which are contained in the extract -- stimulate the immune system, writes Thom. Also, other compounds in elderberry, called anthocyanins, have an anti-inflammatory effect; this could explain the effect on aches, pains, and fever.
Elderberry extract could be an "efficient and safe treatment" for flu symptoms in otherwise healthy people and for those with compromised immune systems, such as the elderly, Thom adds.
Russell Greenfield, MD, a leading practitioner of integrative medicine and medical director of Carolinas Integrative Health, advocates treating flu with black elderberry, he says in a news release. "It can be given to children and adults, and with no known side effects or negative interactions," he says.
Influenza and Elderberry
~ January 1st, 2010
by Dr. Mary Bove
Elderberry the dark blue/black fruit from the shrub Sambucus nigra has traditionally been used as a food made into wines, syrups, cordials, jams, and jellies as well as being a traditional medicine for the treatment of colds and flu during the winter season. Clinical trials conducted within the past 15 years have supported the traditional use of Elderberry for reducing the duration and severity of fever, headache, muscle ache, mucus production, and nasal congestion associated with colds and flu.
Recent placebo-controlled, double-blind studies, on Elderberry syrup found it to be an effective treatment for influenza by reducing hemagglutination and inhibiting replication of human influenza A and B viruses(2)_. Influenza virus particles have an envelope protein called hemagglutinin that binds to the cell. The virus also binds to red blood cells, causing the formation of a lattice. This is hemagglutination. Elderberry increases the hemagglutination inhibition titers in the body, blocking the virus from binding to the host. More recent in vitro studies have supported this mechanism by demonstrating that Elderberry extract acts to inhibit H1N1 viral infection in vitro by binding to H1N1 virions, blocking host cell entry and/or recognition, thus blocking replication of the virus, which must occur inside the cell_(2)_. A recent pilot clinical trial examined the effect of Elderberry in the treatment of flu-like symptoms and showed positive outcomes for decreasing fever, headache, and nasal congestion at 24 and 48 hours post starting Elderberry extract_(3)_.
No adverse effects of Elderberry have been reported in any of the human clinical trials. Specific flavonoid compounds are major contributors to the immune-stimulating action of Elderberry. The flavonoids bind to specific proteins present on the surface of envelope viruses that are required for attachment and entry into host cells. By blocking the virus from attaching to the host cells,_ the Elderberry inhibits the virus's ability to reproduce and flourish within the body. One specific affect of Elderberry is that it activates the healthy immune system by increasing inflammatory cytokine (IL-1 beta, TNF-alpha, IL-6, IL-8) production and anti-inflammatory cytokine IL-10.(4)_ This beneficial effect activates the immune system in healthy individuals or in patients with various diseases.
Elderberry active compounds demonstrate immunoprotective and immunostimulatory effects_(4)_ correlating with the findings of recent clinical studies that showed that flu patients treated with Elderberry recovered significantly quicker than those patients not treated with the Elderberry. Elderberry anthocyanin compounds have shown significant protective effects against oxidative stress, exhibiting antioxidant activity. In vitro research using plasma membrane and endothelial cells enriched with Elderberry anthocyanins confer significant protective effects against oxidative stress along with exhibiting an oxygen radical absorption capacity (ORAC) similar to cranberry_(5)_ .

Using Elderberry syrup during the active stage of colds and flu, to minimize distress, appears to support immune function and offers a natural, safe, and effective option. The use of Elderberry as part of a daily wellness plan during cold and flu season for immune support, inhibition of oxidative stress, and as an antiviral makes sense for a healthy immune system.


References
Randomized study of the efficacy and safety of oral elderberry extract in the treatment of influenza A and B virus infections, J. Int. Med. Res., 2004 March-Apr.; 32(2): 132-40.
Zichria Zakay-Rones, Noemi Varsano, Moshe Zlotnik, Orly Manor, Liora Regev, Miriam Schlesinger, Madeleine Mumcuoglu, Inhibition of Several Strains of Influenza Virus in Vitro and Reduction of Symptoms by an Elderberry Extract (Sambucus nigra L.) during an Outbreak of Influenza B Panama, The Journal of Alternative and Complementary Medicine. Winter 1995, 1(4): 361-369. doi:10.1089/acm.1995.1.361.
King H.F., Pilot clinical study on a proprietary elderberry extract: efficacy in addressing influenza symptoms, Online Journal of Pharmacology and Pharmacokinetics, 2009; 5: 32-43.
The effect of Sambucol, a black elderberry-based, natural product, on the production of human cytokines, I. Inflammatory cytokines, Eur. Cytokine Netw., 2001 Apr.-June;12(2): 290-6.
The ABC Clinical Guide to Elderberry, American Botanical Council, 2004.