Our Pages
ABOUT
- Herbal Medicine
- The Clinic
- Richard Whelan

HERBS
- Alphabetically

CONDITIONS TREATED
- By Group
- Alphabetical

CLINIC INFORMATION
- Clinic Hours
- Clinic Location
CONSTITUTIONAL MEDICINE
- Ancient wisdom in the modern world
Trauma salve
The use of these infused oils, combined with melted beeswax to make a salve, is an ancient treatment, but this recipe has been taken from the excellent book 'Making Plant Medicine' by Richo Cech

To make the oil:

Grind the following dried herbs in a blender and put them into a jar
Calendula            100gms
St. John's Wort   50gms
Arnica                  50gms

The above amounts give the proportions. You can use smaller or larger amounts as you wish.
Pour over 1 litre of Cold-pressed Olive Oil and seal the Jar. Give it a good shake. Label the Jar with the date you made it and the ingredients in it.

Place a layer of rice into a slow cooker that has been turned on to the lowest setting e.g. 'warm' and then place the jar of oil and herbs on top of the rice. You don't cover the slow-cooker, just leave it open.
Open the jar of herbs and oil and give the mixture a good stir every few days as it sits there for at least two weeks. It will go a lovely rich colour over this time and should smell good too.

When ready, strain out the infused oil through a muslin cloth into any kind of container. As messy as it will be, be sure to press the herbs in the cloth with your hands to get as much of the 'good oil' out as you can.
To make the salve:

Sit a glass pouring jug in the slow cooker turned on to a higher heat and gently melt 170gms of beeswax, (or less or more if you are using less or more than 1 litre of oil at the beginning)

Note the wax will burn and ignite if left unattended! You must stay near it and regularly stir it as it begins to melt.

At the same time as you are meling the beeswax, you also need to be gently heating the strained infused oils. Not even close to boiling point, just get them nice and hot.

When the beeswax is melted. and the oil has been heated, add them together into a glass bowl or jug whilst stirring constantly with a wooden spoon.

Once they have been thoroughly mixed, quickly pour into the containers or jars that you have ready.
Let them cool in the open until you can see that the salve has set, then put caps or lids on them and label.

It is best to clean the jug and utensils while they are still hot by wiping them with dry paper towels.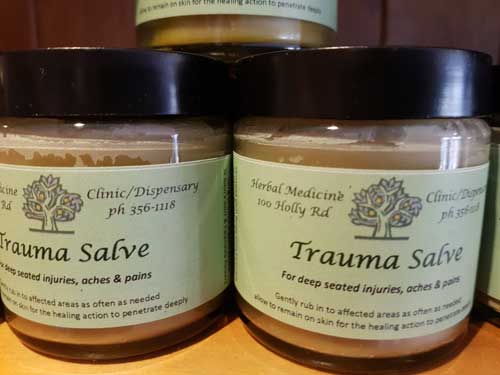 Trauma Salve; from infused oil and beeswax

TOP | ARTICLES A-Z